Say 'hello' to instant mimosas/mocktails and 'bye, bye' hassle. Create the perfect rose mimosa or mocktail instantly with our handcrafted, naturally infused flavored sugar cubes. Once you've made the perfect drink, now you can enjoy the perfect presentation with our edible Rose Petals. Made with all natural ingredients and containing only 15 calories. Enjoy decorated craft bubblies anywhere, anytime!
Set includes: MINI Rose Petals, MINI Raspberry, MINI Grapefruit
For Best Results:
Step 1: Places cubes in the bottom of flute
Step 2: Pour bubblies (sparkling water/wine) over cube
Step 3: Garnish with toppings
Suggested Pairing: Brut rosé, brut sparkling wine, club soda, iced tea, lemonade, tequila to make a paloma, vodka + soda
Drop one LUXE cube in your drink to instantly transform and flavor
The LUXE cube has versatile uses including making: instant flavored lattes, mimosas in sparkling wine, Italian soda/mocktails in sparkling water, and cocktails with spirits
LUXE cubes are made with all natural ingredients
Each LUXE cube has less than a tsp of sugar, approximately 16 calories, 4 carbs
Each LUXE MINI offers 6 servings
Proudly hand-made in the USA
Ingredients:
ROSE PETALS: Rose petals.
RASPBERRY: Cane sugar, raspberry flavor & natural raspberry.
GRAPEFRUIT: Cane sugar, natural grapefruit oil, citric acid, tartaric acid, natural beet dye & organic orange dye.
* Please note that we do pledge to give each product 110% of our effort and to carry high standards in quality control but even with that in mind, ALL of our sugar cubes are handmade with natural ingredients. Nature can take its course and with that in mind the sugar cubes tend to have variations whether it be color, size and shapes of the natural toppings, and form. 
Share
View full details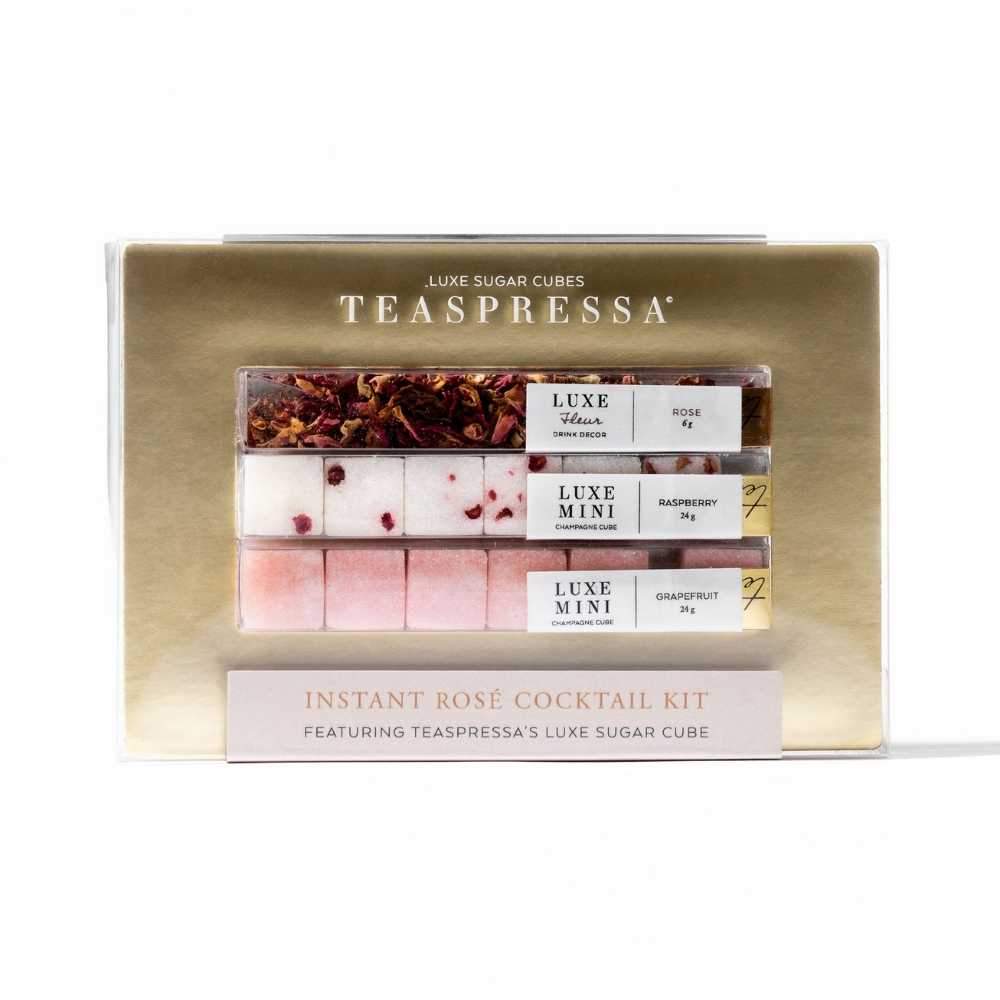 WE MADE TEA COOL AGAIN, EVEN WHEN IT'S HOT
Because we needed something more. Tea is wonderful and delicious, but we missed the robustness and higher caffeine content of coffee. So we found a way to brew tea like coffee, getting the same bold flavour, just as much caffeine, and a richer cup — all without the jitters and crashes of coffee.